2016 New Products Atlas Copco Construction Technique
[ Edit:

admin

  Created Date:

2016-04-21

Readed Times:

Font:

big

middle

small

]
2016 New Products Launch of Atlas Copco Construction Technique
C series Portable Air Compressors
Lighting Tower V4/V5+
DrillAirTM series Y1200/Y1260 Portable Air Compressors
Portable gasoline generator set P3000/6500
C series Portable Air Compressors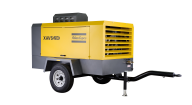 Atlas Copco China - C series Portable Air Compressors
Based on the understanding of customer usage, Atlas Copco launches the new reliable and durable, cost-effective, small, mobile and flexible C series mobile air compressor with excellent performance, low comprehensive cost and other advantages which further conform to Chinese users' use habit.
Suitable for severe environment, C series mobile air compressor satisfies the harsh working condition in the wild and all kinds of working conditions of hydropower stations, railways, mines, highways etc. We will go all out to provide gas engineering solutions for you at all times.
Innovated Design and Optimized Performance
Atlas Copco's C series Portable Air Compressors is equipped with multiple fuel filter to effectively reduce the damage of low-quality oil to the engine, further improve engine performance and prolong service life.
More humanized structure design. The door opened sideways enables you to get the best view and operation space in maintenance, thus reducing downtime. Engine and screw main engine are equipped with independent two-stage air filtration system to ensure clean air suction under poor construction condition and minimize the wastage of unit components.
Intelligent Control and Strong Power
Intelligent control system, imported controller and high resolution display screen collectively provide excellent man-machine dialogue window, thus making operation and monitoring more convenient and efficient. The protection grade which is up to IP65 can prevent comprehensively the corrosion of dust and liquid and greatly improve reliability.
The whole series is equipped with the new Commins diesel engine. With leading combustion technology in cylinder, improve reliability and minimize the pollution of emissions, meeting the latest "Emission Standards of Non-road Mobile Machinery at Stage III." Integrated design of high strength cylinder body, small quantity of parts, compact structure, reliability, durability, easy maintenance and long service life.
Lighting Tower V4/V5+
Atlas Copco China - HiLight V4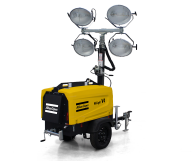 Atlas Copco's Lighting Tower boasts compact structure, sturdiness and durability, novel design, environmental configuration, high efficiency and energy saving, long running time etc.
Metal halogen lamp or LED is alternative. A single Lighting Tower can light up a maximum area of 5,000 square meters. With high efficiency and energy saving, it has long running time and can run for nearly successive 7 days.
Vertical hand-operated heavy-load support mast is used, so the height can be easily adjusted; four heavy-load support masts further ensure construction safety and the stability of the equipment on the ground.
Made of linear medium density polyethylene material, the box boasts novel appearance, safety, resistance to rust and fade and light weight, being the best lighting facility at night in buildings, events, exhibitions, activities, rescue and all sorts of applications.
DrillAirTM series Y1200/Y1260 Portable Air Compressors
Atlas Copco China - DrillAirTM series Y1200/Y1260 Portable Air Compressors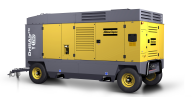 New DrillAirXpert large Portable Air Compressors series will bring you new drilling construction experience. Faster, deeper and larger.
The whole series is equipped with the world advanced DrillAirXpert system. You can completely control the pressure and flow of the compressor to meet the demand of each construction and production link, thus improving production efficiency and reduce energy consumption. Patent XPR technology allows you to set the required pressure ranging from 15 bars to 35 bars. The equipment will automatically adjust the volume to fasten well completion.
The machine has high performance volume, convenient for shipment and field removal; low emissions and low noise build a green construction environment. The advanced electrically controlled air inlet valve can further save more than 3% of fuel consumption. The whole machine has no manual pressure regulating components, thus ensuring the using effect at lower temperatures and higher altitudes. It is widely used in wells, geothermal, coalbed methane, shale gas, rescue and other kinds of projects in need of pore forming. It is also greatly suitable for oil and gas field services and maintenance engineering of pipeline construction.
Portable gasoline generator set P3000/6500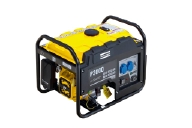 P3000
Atlas Copco's portable gasoline generator set is simple, light, sturdy, durable, safe, reliable and easy to move.
In terms of design, highlight the concept of compact and durable appearance. The strong main framework can effectively protect generator parts. Sensitive components are reinforced to effectively protect the distribution board. Use high-reliability AC generator to ensure automatic shutdown at low oil pressure. Equip with large-capacity fuel tank, fuel gauge and stopwatch to ensure long battery life.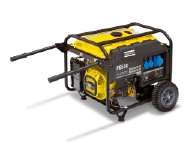 P6500
Good safety and protection performance. Use enclosed cable design to protect exhaust. Equip with circuit breaker to prevent electric shock or fire. Alarm at low oil level.
Stable output power. Boast automatic voltage regulation (AVR). Small shape. Equip with practical handle and return pulley for holding or removal. Electric start mode for lower noise and environmental protection.
【Print the page.】【Close the page.】