Zega advances with Jiangnan-Onoda together
[ Edit:

admin

  Created Date:

2016-02-03

Readed Times:

Font:

big

middle

small

]
Zega advances with Jiangnan-Onoda together
The Jiangnan-Onoda Cement Co., Ltd. is located at foot of the Qixia Mountain at northeast suburbs of Nanjing City in Jiangsu Province, is adjacent to the Yangtze River
and is jointly invested and operated by the Nanjing Chemical Engineering Industry (Group) Co., Ltd. and Japanese Taiheiyo Cement Co., Ltd. This joint-venture company
was established in March 1993 and was completed and put into commercial production in May 1996. The company outputs 5,000t clinker every day.
The successful cooperation, this time, between Zega Machinery and Jiangnan-Onoda does not come easy. The Jiangnan-Onoda Cement Co., Ltd., as one of the members
of the Japanese Taiheiyo Cement Co., Ltd., has introduced sets of the most advanced technologies, processes and equipment of foreign countries and realized mechanization
and automation of all production links; has integrated lots of loading and transportation devices of well-known international brands (mainly the Komatsu, Hitachi and TEREX, etc.)
in its mining equipment; and has equipped with large numbers of well-known drilling and blasting equipment (of Furukawa, Ingeroll-Rand and ATLAS COPCO, etc. brand).
Therefore, it becomes critical to let it fundamentally know and accept the brands in China!
Zhejiang Zega Machinery Co., Ltd. is a dynamic, positive, young and energetic company. Since its establishment in August 2003, it always adheres to the operation principle
of "focusing on details, pursuing high efficiency, emphasizing quality and creating the future", gradually gets a firm foothold in fierce market competition by relying on excellent
quality of its products and active response of services, and makes it to a well-known Chinese new high-tech enterprise with the most complete hydraulic drilling rig series &
categories and the most abundant helical-lobe compressor series & categories in the industry step by step. On June 18, 2014, the Zega Machinery (Shanghai) International
Trading Co., Ltd. was established in Shanghai. This important action means that Zega Machinery not only takes a key step forward in the "stepping out and up" strategy,
but also lays a solid foundation for providing high-quality products and services for high-end customers in China and vast customer groups in foreign countries.
We always attentively pay close attention to developments of Jiangnan-Onoda and keep good contact with it. However, for Zega Machinery (as a brand in China), it is not easy
to attract attention of Jiangnan-Onoda and ease its concerns on equipment made in China in one day. Therefore, it is extremely difficult to obtain an order from Jiangnan-Onoda.
Whereas, all employees of the dynamic and positive Zega Machinery will face the difficulties and implement the objective to details of each step!
Zega Machinery (Shanghai) International Trading Co., Ltd., after learned that the Jiangnan-Onoda intends to purchase a 140mm bore diameter hydraulic drilling dig for its Cishan
limestone mine, pools the wisdom and efforts of everyone at all levels, visits relevant departments and persons repeatedly, enters into operation site of the customer to see the
industrial mining and has held two times of product technology exchange specific to its ZGYX-460 hydraulic drilling rig. With our unremitting efforts, the customer forms a delegation
and pays a visit to production base of Zega Machinery in Quzhou and conscientiously and carefully pays a visit to operating site of Jiangxi Copper Corporation's ZGYX-460. Finally,
ZGYX-460, because of its excellent cost performance and reliable after-sales guarantee, successfully passes strict investigations of the customer, presents a slight superiority over
other international well-known brands in the competition and wins recognition and favor of the Jiangnan-Onoda Cement Co., Ltd.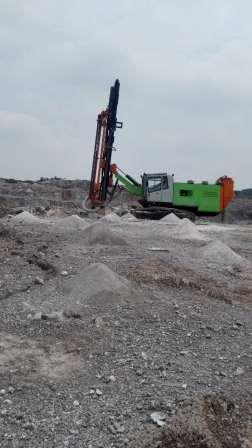 In June of this year, ZGYX-460 was smoothly delivered to the Cishan mine of Jiangnan-Onoda. The ZGYX-460 is a heavy-duty open-cut down-hole drill integrated with gas, liquid and
automation control independently researched, developed and manufactured by Zega Machinery Co., Ltd. Its standard configuration includes the driving cab, automatic rod changing
mechanism, heavy-duty travelling mechanism and chassis with leveling function which makes rock drilling operation of the equipment more stable while the fast moving and high
off-road travelling performance is met. And, the double-step dust removal function provided on the equipment is able to meet environmental protection requirements of all mines.
This product, because of its high efficiency, energy saving, environmental protection, safety and other characteristics, is preferred by various customers. Since the equipment is
delivered for use, it wins unanimous recognition of customer's management with its reliable complete quality, high rock drilling efficiency and excellent dust removing effect; and
its flexible operation and convenient maintenance and care has been highly praised by the operators and maintenance personnel. It can be said that the value of this product is
beyond its price only when the excellent product is provided with high-quality services! Our after-sales service, as a main advantage of a domestic company, is more timely and
prospective and gets closer to our customers because we always "worry what the customers worry about and think what the customers think about"! We always adheres to the
customer-oriented principle and provide customers with better experiences, so as that customers can use our products without worries.
The ZGYX-460 drilling rig, for its outstanding performance and unanimous praise, smoothly passed strict acceptance of Jiangnan-Onoda at the end of September. The successful
selling of ZGYX-460 in Nanjing not only demonstrates incomparable cost performance of Zega Machinery's high-end hydraulic drilling rig, but also fully proves that high-end products
of Zega Machinery are not inferior to equivalent imported equipment. This is a win-win situation for Zega Machinery and Jiangnan-Onoda, is successful practice of the principle
that" one must learn how to behave before doing anything" adhered by Zega Machinery and also the surging power encouraging Zega Machinery to make progress continuously!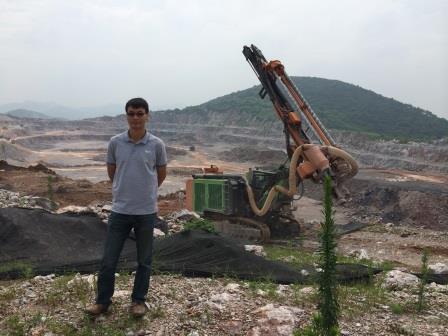 The photo of the sales director in eastern region of Zega Machinery (Shanghai) International Trading Co., Ltd. and the equipment
【Print the page.】【Close the page.】